June 28, 2008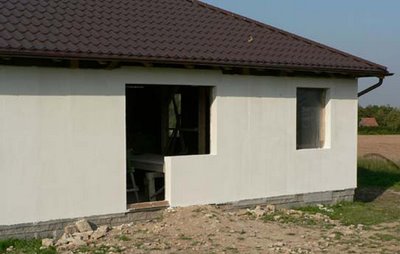 Strawboard building panels are a kind of structural insulated panel (SIP) designed to replace 2×4 stud and drywall construction for both interior and exterior walls, as well as provide load and non-bearing ceilings, roofing, doors, flooring, and prefabricated buildings. These environmental friendly, solid panels are made of all natural fibrous raw materials, mainly wheat and rice straw. The durable panels feature thermal and acoustic insulation as well as fire and termite resistance and are available for a variety of applications to speed up the construction processes. While these have been used in over 20 countries for more than 50 years, strawboard panels have only been introduced to the U.S. in the past few years.
Strawboard panels have a solid core of compressed wheat or rice straw. High pressure and temperatures forces the straw to release a natural resin that binds the fibers together. The compressed panels are then covered with either paper liners or OSB that is adhered to both sides with water based non-toxic glue. The standard panel measures 4 feet by 8 feet by 2-1/4 inches to 8 inches, weighing from 140 lbs. to 440 lbs. each. Custom panel sizes are available ranging from 3 feet to 12 feet long.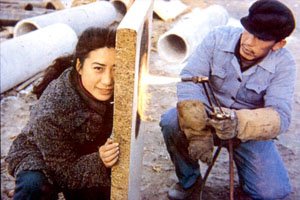 The panel's high
density and low oxygen content does not support combustion. Since the panels do not contain added resins, alcohol, or other chemicals, no flammable vapors are produced. The panels have an R-value of between 3 and 25, depending on the composition and thickness. For permanent protection against insects and fungal decay and additional fire resistance, the boron compound polybor can be factory added to the core.
The product's workability is similar to wood as it can be sawn, drilled, routed, nailed, screwed, and glued. Lightweight wall attachments such as shelf brackets, picture frames, mirrors, and towel bars can be attached directly to the panel.
Since straw is a renewable by-product of wheat and rice production that becomes available annually, it takes less acreage (by about half) to build an equivalent house than with standard lumber, and which would then potentially preserve that forest for ecological habitat and CO2 sequestration.
See www.stramit-int.com/ for panels available in Europe and www.agriboard.com for panels available in the U.S.