May 10, 2008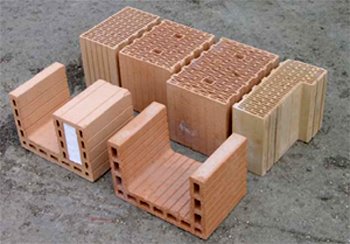 There is a manufactured building system that has been gaining popularity in Europe for several years called Thermoplan or Zeigel Blocks. While I have no personal experience with this technology, I can readily see its many advantages. As far as I know this system has not made its way across the ocean to North America. From what I can gather from the websites (referenced below), here are some of the advantages:
Thermoplan or Zeigel Blocks are fired clay blocks which use about 1/3 less energy to make compared to concrete blocks, and about 2/3 less CO2. They are fast, simple and ideal for a self builder to use. About 50% of German homes are made this way and the technology is spreading to other areas of Europe.
Thermoplan systems use Ziegel blocks with a thin bed of mortar, to provide
a breathing wall construction system. When combined with woodfibre board they can form a thermally and acoustically high performance shell. The Ziegel blocks come as part of a full load-bearing external and internal wall masonry system, and combine high thermal performance with robustness, speed of build and a breathing wall design.
Because of all the trapped air and the thickness of the walls, these blocks provide reasonable insulation, while at the same time do provide some degree of interior thermal mass for maintaining constant interior temperatures. This is an unusual combination of these two factors in a single wall system.
See www.burdensenvironmental.com or www.natural-building.co.uk for information for this innovative system.